What bad, bad,habit?
Vista Guru


Problem
:
I am a bit concerned that my Laptop CPU could be under pressure by running at temperatures that are too high, and consistently for too long.
Background:

1. See my system specs for system details.
2. Snips taken from screen-shots courtesy of
Piriform Ltd - 'Speccy'
Because I don't believe in it and don't use air-conditioning, the laptop is constantly being used in room temperatures that can vary from 22° to 34° Celsius [72° to 93° Fahrenheit], and in humidity that can range from 75%, right through to 98%. I do have free and open space under the laptop, and a desktop fan is constantly directing a good blast of air at the laptop position.
Screen-snips from 'Speccy':

Laptop CPU temperatures when it is basically at idle look like this;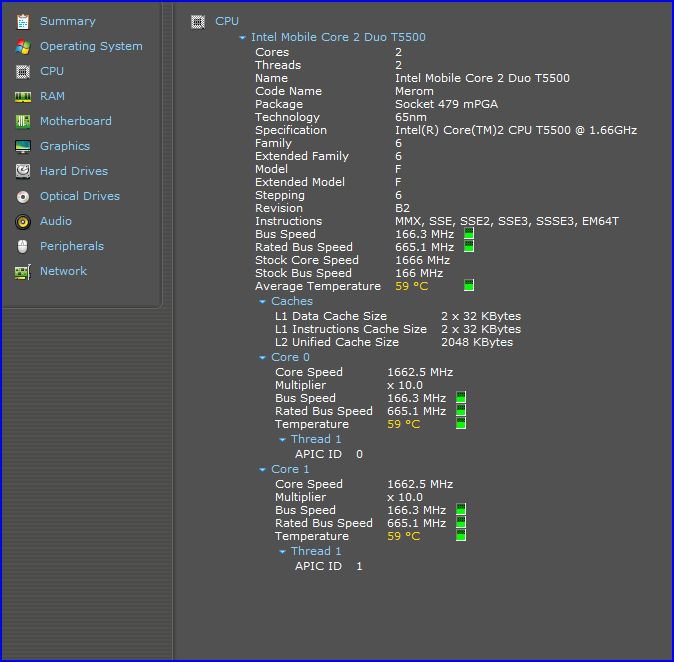 .....and with a couple of websites up and a bit of software running, the CPU temperatures looks like this;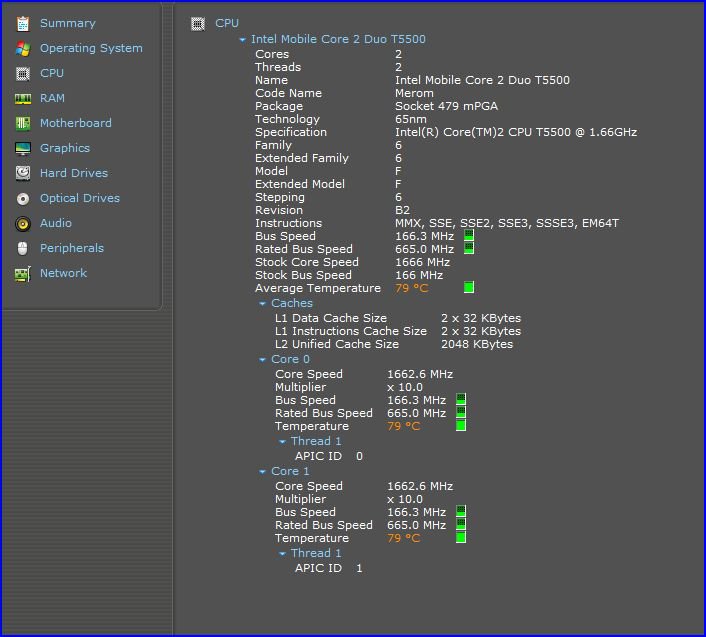 Keeping the Laptop free from dust and dirt:
I'm aware that dust and dirt can play havoc with Laptop internal fan efficiency, and am constantly cleaning all the vents using a small hand-held battery-driven vacuum cleaner, and can't do much more than that.
Blasting the dust using cans of compressed air - for a Laptop; Yes or No:
Or can I use the cans???..... Are the compressed air cleaners in a can available at most computer and tech shops, of any use in cleaning Laptops? I am a bit wary of them, knowing that some have been known to introduce moisture into the units, during use as cleaners. Besides, I am none too keen in using something that could be blowing dust etc., further into the body of a Laptop. But are there any alternatives, other than removing the back and cleaning the fan that way??
Summary:


So, do my temperatures look anything out of the ordinary, and which is the best method in keeping the Laptop free from dust and dirt?
My Computer
Manufacturer/Model

Acer Aspire Notebook 5633WLMi.[5630 Series]

CPU

Intel Centrino Duo Processor - Intel Core 2 CPU.

Memory

4GB DDR2 [3.07GB maximum real available]

Graphics Card(s)

nVidia GeForce Go 7300, 128MB

Sound Card

Realtek HD Audio, Ver. 6.0.1.5717, 2.08MB

Monitor(s) Displays

Acer Aspire Notebook - 15.4"; Acer LCD Monitor X223Wsd - 22".

Screen Resolution

1280x800x60Hertz [max.]

Hard Drives

Notebook - Samsung HM320JI 320GB HD installed 07 August 2009.
External HDs [4];Maxtor One Touch4 - 500GB External HD [Drive M:\].Western Digital WDXMS1200TA - 120GB External HD [Drive G:\ - Windows Defender Backup Files only]. Two x LaCie 320GB Mobi

Mouse

Logitech Wireless V320 for Notebooks - Model M/N: M-RCD125

Internet Speed

Down 20000kb/sec / Up 1000kb/sec [Bigpond-Aus]

Other Info

Brother MFC-465CN; PC to Fax/Scan/Copy/Photo MFC. Epson Perfection V300 Photo Scanner. Siemens Speedstream 6520 Router. Wacom 'Bamboo Fun' CTE-650 PC Tablet, Stylus and Mouse. UAC - On;Activated. Browsers; [1] FireFox v3.6[2] IE8. Honorary R.S.M. to the 4th [Assault Pioneer] Troop Pune Sepoys , and 3rd Troop Jodhpur Bengali Lancers.