What bad, bad,habit?
Vista Guru


I do believe that my Graphics Card is in the process of internally combusting - that is it's about to fry!!! This is the full specification for the Card, also details in my System Specs;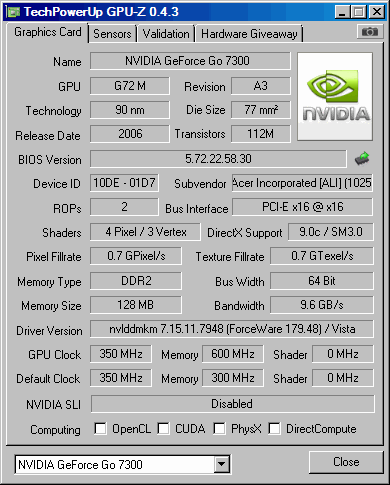 Over the last couple of weeks, my Laptop has started to develop very slow and long lag times in displaying applications and program pages. For example, Windows Live Mail is taking up to 90 seconds + from click to fully load and search for email. Other applications like Skype and Windows IE 9, plus all other Menu type sub-windows [ eg. Help and Support ], are suffering from the same issue - very slow loading times.
Some displays, again Windows [Live Photo Gallery] and Skype, are frequently being plagued with
corrupted displays such as the mess shown here
in another Forum thread about screen glitches.
Then today I was presented with this fine mess of a screen, worthy of a place in any New York Met Art Collection;
I was able to recover from the mess with a 'hard' close-down, and two re-boots of the system.
The two issues mentioned above are, I believe, some pretty firm indicators that there is something drastically wrong with the Graphics Card, that it is certainly terminal, and probably close to expiration. With that, I have spent the best part of the last two hours trying to source a replacement card [same Type/Spec] here in Australia, but have been spectacularly unsuccessful - nothing available anywhere, not even from Charity shops.
Can anyone point me to a reputable source where I may buy a replacement?
In the meantime, I have a 23 inch Acer Monitor that I do use reasonably frequently from the Laptop
[ see my System Specs]
, and I was wondering if I can set this up as the sole Prime Display while the Laptop Display Card slowly goes through it's death throes, and at least keep me with an operative unit until I can source a replacement Display Card?
Break out the Bagpipes for a Funeral Durge....
My Computer
Manufacturer/Model

Acer Aspire Notebook 5633WLMi.[5630 Series]

CPU

Intel Centrino Duo Processor - Intel Core 2 CPU.

Memory

4GB DDR2 [3.07GB maximum real available]

Graphics Card(s)

nVidia GeForce Go 7300, 128MB

Sound Card

Realtek HD Audio, Ver. 6.0.1.5717, 2.08MB

Monitor(s) Displays

Acer Aspire Notebook - 15.4"; Acer LCD Monitor X223Wsd - 22".

Screen Resolution

1280x800x60Hertz [max.]

Hard Drives

Notebook - Samsung HM320JI 320GB HD installed 07 August 2009.
External HDs [4];Maxtor One Touch4 - 500GB External HD [Drive M:\].Western Digital WDXMS1200TA - 120GB External HD [Drive G:\ - Windows Defender Backup Files only]. Two x LaCie 320GB Mobi

Mouse

Logitech Wireless V320 for Notebooks - Model M/N: M-RCD125

Internet Speed

Down 20000kb/sec / Up 1000kb/sec [Bigpond-Aus]

Other Info

Brother MFC-465CN; PC to Fax/Scan/Copy/Photo MFC. Epson Perfection V300 Photo Scanner. Siemens Speedstream 6520 Router. Wacom 'Bamboo Fun' CTE-650 PC Tablet, Stylus and Mouse. UAC - On;Activated. Browsers; [1] FireFox v3.6[2] IE8. Honorary R.S.M. to the 4th [Assault Pioneer] Troop Pune Sepoys , and 3rd Troop Jodhpur Bengali Lancers.