How to Delete and Extend a Partition with Disk Management in Vista​

Information

Note
This can be handy, for example, if you have one hard drive with two partitions and would like to Delete the second partition and Extend the first (boot) partition with Vista back to one large partion (volume).

Tip
The default location for Disk Management is C:\Windows\System32\diskmgmt.msc.

Warning
You will not lose any data on the partition (volume) that you are Extending. The partition you want to delete and use to extend another partion must be to the immediate right of the one you want to extend. You can cannot extend a partition from a deleted partition two or more partions to the right of it.
All data on a partition will be lost when you Delete it. Be sure to back up any files that you want to save to a different location before you continue.
EXAMPLE:

Before and After

​
STEP ONE
To Delete a Partition
1.
Open the Control Panel. (Classic View)​
A) Click on the Administrative Tools icon.​
​
B) Click on Computer Management.​
​
2.
Click on
Continue
in the UAC prompt.​
​
3.
In the left pane, click on
Disk Management
under
Storage
. (See screenshot below step 4)​
​
4.
Right click on the volume (
EX: E:\
) you want to delete that is just to the right of the partition that you want to extend, and click on
Delete Volume
.​
NOTE:
If your hard disk is currently set up as a single partition, then you cannot delete it. You also cannot delete a system partition (OS isntalled on), boot partition, or any partition that contains a virtual memory paging file, because Vista needs this information to start correctly. You will have to use the Vista installation disk to delete it.
​

​
​
5.
Click on
Yes
to the confirmation prompt. (See screenshot below)​
NOTE:
This will leave the partition as unallocated (blank) with no drive letter.
​

​
​
STEP TWO
To Extend a Partition
6.
Right click on the partition (
EX: C:\
) the is just to the left of the
unallocated space
that you want to
Extend
it into, and click on
Extend Volume
. (See screenshot below)​

​
​
7.
Click on
Next
for the Welcome to the Extend Volume Wizard window. (See screenshot below)​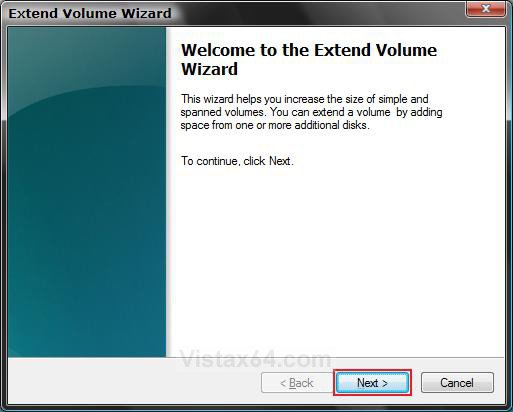 ​
​
8.

Select the amount of space in MB

you want to use from the unallocated partition to use to

Extend

this partition. (See screenshot below)​
NOTE:
If you want to make one partition again, then select all of the available space for that one disk. If there were other drives with free unallocated space, they would be shown under the Available selection.
​
WARNING:
It is advised that you do not extend a volume on one disk with free space from another disk. If one of the drives has a hardware failure, then all the data on that partition (volume) will be deleted.​
A) Click on Next.​
​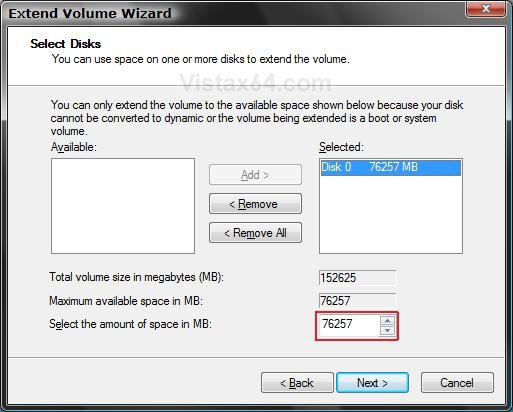 ​
​
9.
Click on
Finish
in the Completing Extend window. (See screenshot below)​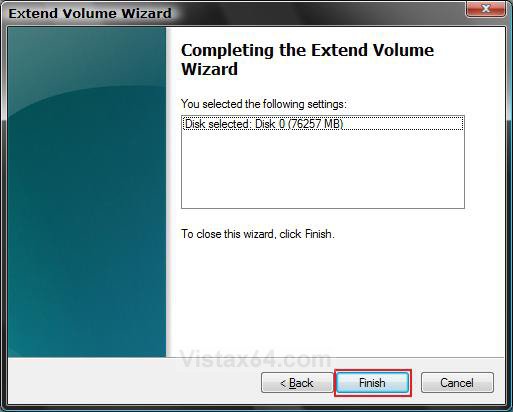 ​
​
10.
You will now see the Disk Management console with the new
Extended
partition volume ready to be used. (See screenshot below)​

​
​
11.
Close Computer Management.​
​
12.
Click on
Computer
in the Start Menu and see your new Extened partition volume. (See screenshot below)​
NOTE:
In this example, we will have one large partition from the same hard disk now.
​

​
​
That's it,
Shawn
Last edited by a moderator: