How to Change the Desktop Background Wallpaper in Vista
​

Information
The desktop background wallpaper is the image on the desktop from your personal collection or one that comes with Vista. You can also select a color for your desktop background or use a color to frame your background picture.

Note
The default Wallpaper folder is located at: C:\Windows\Web\Wallpaper

Tip
Here's How:
1.
Right click on a empty area of your desktop and click on
Personalize
. (See screenshot below)​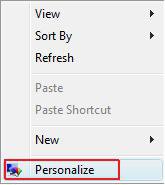 ​
​
2.
Click on
Desktop Background
. (See screenshot below)​

​
​
3.

To select a Image that is Displayed for the Wallpaper
​
A) Highlight the image. (See screenshot below step 4)​
NOTE:
If you highlight the image, you can see a preview of it on your desktop.
​
​
4.

To Select a Image from Another Location for the Wallpaper
​
A) Click the drop down arrow under Picture Location.​
​
B) Select a folder that has your image in it.​
NOTE:
You can edit this Picture Location list from within the registry location below to remove any listed location from the list here:
​
​
​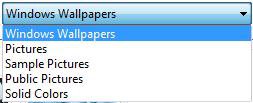 ​
​
​
C) Click on Browse and navigate to the location of the image.​
​
5.
Choose how the picture should be positioned on the desktop.​
NOTE:
Only Fit to screen, Tile, and Center are available for the Vista Home Basic and Home Premium editions. You will need to install
DreamScene
in Vista
Ultimate
before you see the
Fit to screen keeping aspect ratio and Fit To Screen with cropping options.
​
​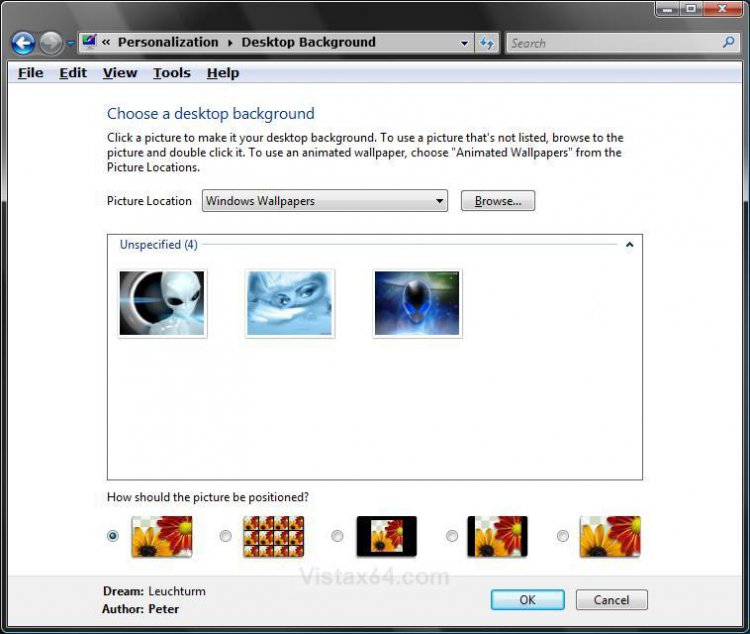 ​
​
That's it,
Shawn
Last edited by a moderator: