How to Change the Size of Desktop Icons in Vista​

Information
This will show you how to increase or decrease the size of all the icons on the Desktop in Vista. The icons size is set to Medium Icons by default.

Note
OPTION ONE
To Change Size with the Context Menu
1.
Right click on a empty space on the desktop.​
​
2.
Click on
View
. (See screenshot below)​
​
3.
Select the size you want. (Classic, Medium, or Large Icons)​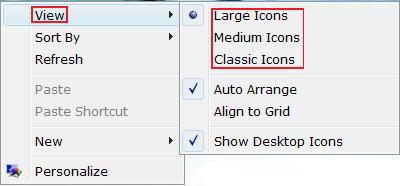 ​
​
OPTION TWO
To Change Size with the Mouse Scroll Wheel
NOTE:
This will also work on all icons in Windows Explorer
.
​
2.
Press and hold down the
CTRL
key (Control).​
NOTE:
You may need to also press and hold the right mouse button with some older mouse models
.​
​
3.
Roll your mouse
scroll wheel
up or down to adjust the icon size​
NOTE:
The trick is not moving the mouse while rolling the scroll wheel. (up=larger, down=smaller)
​
​
4.
Release the
CTRL
key when done.​
​
That's it,
Shawn
Last edited: