Hello
Please help me with my HP Pavilion dv2000, i changed it from Win7 to Win Vista. then when i was installing the drivers from the HP website. everything was working fine and suddenly i notice that the webcam does not work. i got this error message from the Device Manager.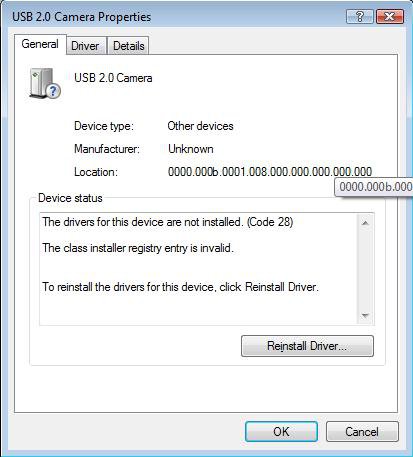 My Laptop is currently running at
Thanks in advance..
PS. i tried to install the driver like more than 10 times from yesterday and until now. still no good i tied to uninstall and reinstall, still no good.
EDIT 2 i also got this error message when i reinstall the driver.

Last edited:
My Computer
Manufacturer/Model

HP Pavilion dv2000

CPU

AMD Turion 64 x2

Motherboard

AMD

Memory

1406MB

Graphics Card(s)

128

Sound Card

Conexant HD

Monitor(s) Displays

1