٩(͡๏̯͡๏)۶
Vista Guru
Gold Member


ByLine

How to Set Up a Timed Hibernate
Synopsis

SysInternals (now owned by Microsoft) have a free software package called PsTools - which includes a tool called PsShutdown. This has many more features than the conventional shutdown.exe found in Windows, one of which being the ability to do a timed shutdown.
How to Set Up a Timed Hibernate
​

Information
This will show you how to set up your computer to hibernate after a set period of time.



Warning
You will need Administrator privileges to do this.


We'll be using PsTools by SysInternals to do this

PsTools can be found here:

PsTools

Direct Download Link:

http://download.sysinternals.com/Files/PsTools.zip

Part 1: Copying Files

1.

Download

the above zip file (PsTools.zip) to you

Desktop

2.

Right Click

on

PsTools.zip

and select

Extract All...

3.

When the window opens, change the location to

C:\Windows\system32\

and uncheck the box

Show extracted files when complete

Note
Your drive letter may be different, ie D:\Windows\system32\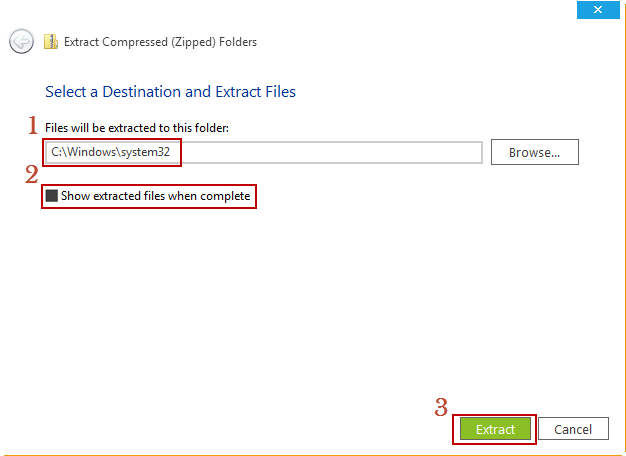 ​
​
4.
Once this has finished, we're all good to go!
Part 2: Using PsShutdown
Here is the various switches that can be used with PsShutdown: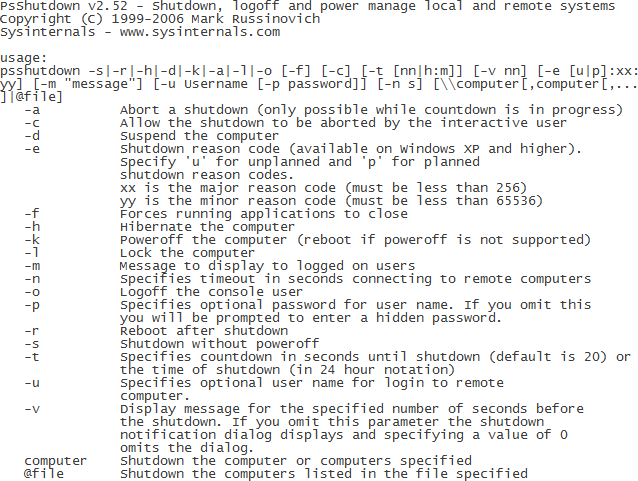 As you can see, there's a lot of features!
But we're only interested in two:
-h Hibernate the computer
-t Specifies countdown in seconds until shutdown (default is 20) or
the time of shutdown (in 24 hour notation)
By using
both
of these switches together, we can delay a hibernate.
PsShutdown is
command line only
(a
Console Application
) so we have to launch command through
Command Prompt
Launching Command Prompt

:
1.
Hold the
Windows
key and press
R
to bring up the
Run
box
2.
When the window appears, type
cmd
in the box and press
OK
. This will now launch
command prompt
3.
You should now be presented with a
black
window with a flashing white line. This is
command prompt
and this is what we'll be entering our commands in.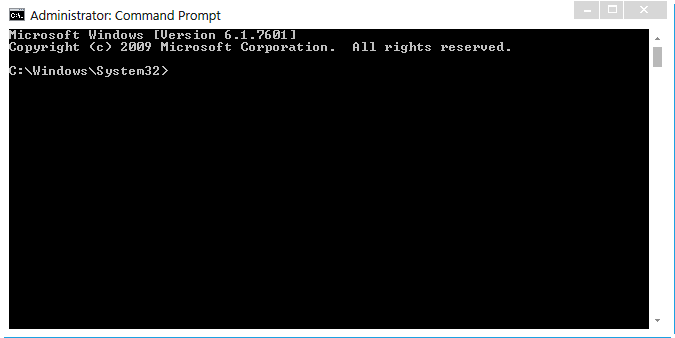 ​
​
Hibernate Commands:
1.
To launch a command, you first have to specify what program you'll be launching. In this case, it will be
psshutdown.exe
(it is case
insensitive
- ie, PsShUtDoWn.exe will still work!)
Our current command: psshutdown.exe​
​
2.
Launching the above command will do nothing, as you haven't told psshutdown.exe what you want to do. We 'tell it what to do' by using switches. These are usually
hyphens (-)
or
forward-slashes (/)
followed by
letters
, we'll be using
hyphens
as this is what is indicated in the help file. Although both do actually work in this scenario.
Switches are case sensitive
.
Our current command: psshutdown.exe​
​
3.
We need the
-h
switch to tell the
psshutdown.exe
that we want to hibernate (you can use other switches to
shutdown (-s)
,
reboot (-r)
,
lock(-l)
,
suspend (-d)
and
logoff (-o)
)
Our current command: psshutdown.exe -h​
​
4.
When we execute (
type
this command into
command prompt
then press
enter
) this command, it will
hibernate
the computer
immediately
. So we need another switch, the
time
switch
-t
. For ease of use, the developer (Mark Russinovich) has allowed the input of two different time forms:
24 hour format - To hibernate at a set time
Time in seconds - To hibernate after a set time (in seconds!)
In the following example, I'll be treating the current time as
12:00 noon
, and we want to hibernate in
20 minutes
time.
We can now add
either
of the following switches to the end of our command:
The first example makes use of the
24 hour format
time. The second example makes use of the
time in seconds
format (20 minutes = 20*60 seconds = 1200 seconds). We can now add
either
to the end of our command

Warning
Do NOT add both, we only need one!
Our current command: psshutdown.exe -h -t 12:20​
OR​
Our current command: psshutdown.exe -h -t 1200​
​
Once you've typed what you want into
command prompt
, press
enter
. Make sure you've typed the right thing!
It should now display a message
similar
to this: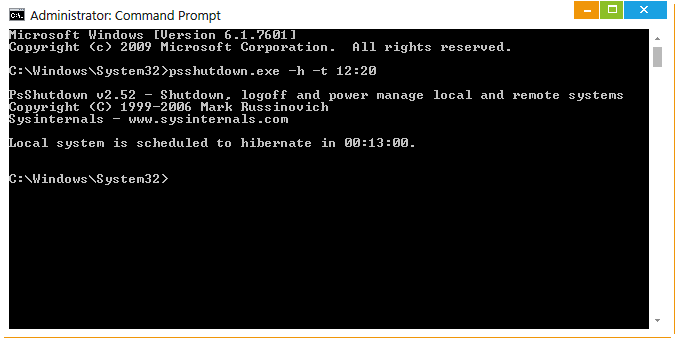 And there we have it, your computer is set to hibernate after a set period of time

If you need to
abort
the hibernate for whatever reason, just use the following command:
psshutdown.exe -a​
​
The
-a
switch is used to
abort
. It's a very useful one - if it didn't exist, my computer would've hibernated before I finished typing the rest of this!
Enjoy!
Tom
Last edited by a moderator:
My Computer
Manufacturer/Model

Build #1

CPU

Intel Core i7 3770K @4.4GHz

Motherboard

ASUS P8Z77-V PRO

Memory

Corsair Vengeance 2x4GB DDR3 1600MHz Low Profile (White)

Graphics Card(s)

Gigabyte Radeon HD 7850 (2GB GDDR5)

Sound Card

Integrated on motherboard

Monitor(s) Displays

23" LG LCD/LED IPS

Screen Resolution

1920*1080

Hard Drives

Samsung EVO 128GB SSD
Seagate Barracuda 2TB 7200rpm
2x500GB Seagate FreeAgent 5400rpm

PSU

Corsair TX650W V2 (80+ Bronze)

Case

NZXT Phantom 410

Cooling

Corsair H100 Water Cooler, 1x140mm and 1x120mm stock fans

Mouse

Microsoft Desktop 2000 Wireless Mouse

Keyboard

Microsoft Desktop 2000 Wireless Keyboard

Internet Speed

95 Mb/s Download 70 Mb/s Upload