How to Reopen the Last Browsing Session in Vista Internet Explorer
​

Information
This will show you how to reopen the last browsing session in Vista for Internet Explorer 7, 8, and 9 to when Internet Explorer was last closed.
OPTION ONE
In IE7
NOTE:
This will set IE7 to save the current browsing session (opened tabs) when you close IE7 to have IE7 open them again automatically the next time you open IE7
.
1.
When you have more than one tab open, close Internet Explorer 7.​
​
2.
Click on
Show Options
for the
Do you want to close all tabs?
notice. (See screenshot below)​

​
​
3.
Check the
Open these the next time I use Internet Explorer
box. (See screenshot below step 4)​
NOTE:
If you checked the Do not show me this dialog again, you can get it back by checking Warn me when closing multiple tabs in OPTION ONE (step 5) here
.​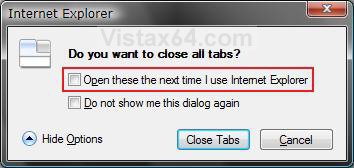 ​
​
4.
Click on the
Close Tabs
button. (See screenshot below)​
​
OPTION TWO
In IE8 and IE9
NOTE:
This will show you how to open the last IE8 browsing session when you open IE8 and IE9 the next time
.
1.
Open Internet Explorer 8 or 9.​
​
2.
Click on
Tools
and
Reopen Last Browsing Session
. (See screenshots below)​
NOTE:
You can click on Tools from the Menu Bar or Command Bar button
.​
​
3.
Internet Explorer will now open the tabs with the websites that you had open in the last Internet Explorer browsing session.​
​
​
That's it,
Shawn
Last edited: