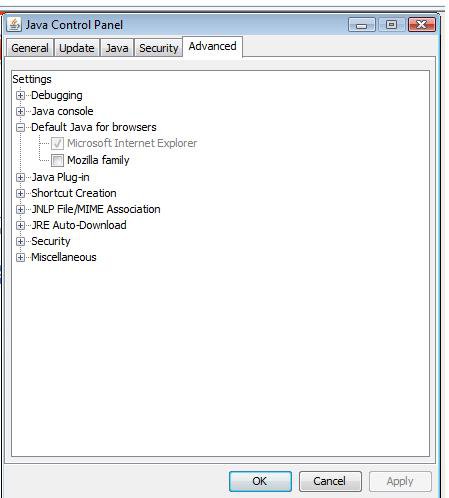 Hi
Trying to use the web without Java is like trying to swim with a anchor.
I have some problems with getting to use pogo games (I've checked their site for help...refer to anchor comment above) and nothing.
I've gone to Java site and same results. I've done a web search and same results.
Here is problem.
I can log into pogo ok and then select game and get the "you need java" msg.
I have java. Version 6 update 16. I have IE8 on a vista 32bit os.
Java says to make sure java is enabled for internet explorer in java control panel.
I go to java control panel, advanced tab, default for java browsers and the entry for microsoft internet explorer is greyed out, but box does show a check mark.
This doesn't seem normal to me. I should beable to check and uncheck that box.
I think that java control panel is not seeing IE8, therefore, nada on the pogo.
see attached screen shot.
Any aid in resolving this issue will forever earn you warm fuzzy feelings.
Thanks
My Computer
Manufacturer/Model

I built my own

CPU

Intel Core 2 Quad Q6600 2.40GHz 8MB Cache 1066MMHz FSB

Motherboard

Asus P5N-D NVIDIA nForce 750i SLI Socket 775

Memory

OCZ Dual Channel PC8000 DDR2 1000MHz 8Gigs

Graphics Card(s)

BFG GeForce 8800 GTS OC 512MB GDDR3

Sound Card

Sound Blaster Audigy

Monitor(s) Displays

Hanns.g 28" true 1080p w/hdmi

Screen Resolution

1920 x 1200 I use the whole screen

Hard Drives

I use Seagate Barracuda 7200 11 500GB Hard Drives

PSU

OCZ StealthxStream 600 watt/ATX/120mm fan

Case

Apevia X-Telstar full tower case w/clear side panel

Cooling

Cooler Master Sphere CPU cooling fan Copper heatpipe

Mouse

Logitech track ball

Keyboard

Logitech G11

Internet Speed

cable

Other Info

I use this computer for the express of Flight Simulator X.
Nothing has been overclocked (don't know how).
Always looking to get the most I can out of it's processing power etc to enhance my flight sim experience