How to Use the Memory Diagnostics Tool in Vista​

Information

Note
Here's How:
1.
Run from within Vista
​
A)Open the Control Panel (Classic View), then click on the Administrative Tools icon and click Memory Diagnostics Tool.​
​
​
B) Open the Start menu, then type MdSched in the search boxand press Enter.​
​
C) Click on Continue in the UAC prompt.​
​
D) Click on the choice you want to do. (See screenshot below)​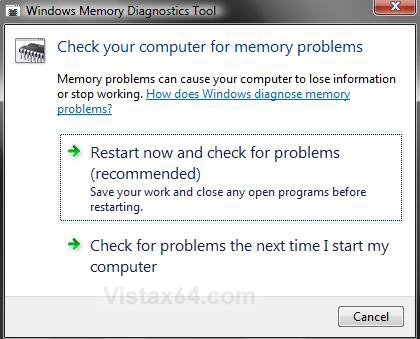 ​
​
E) Restart the computer to run the test.​
​
F) It will take a while to finish. (5 minutes or so)​
​
G) Go to step 4.​
​
2.
Run from Windows Boot Manager
​
​
B) Press Esc on your keyboard while you're in the Advanced Boot Options screen.​
​
C) Press Tab on your keyboard to move to the Tools section of the boot manager screen. (See screenshot below)​
NOTE:
This will highlight Windows Memory Diagnostics
.​
​
D) Press Enter to start the Memory Diagnostics.​
​
​
E) Go to step 4.​
​
3.
Run from System Recovery Options
​
​
B) Click on the Windows Memory Diagnostic Tool option. (See screenshot below)​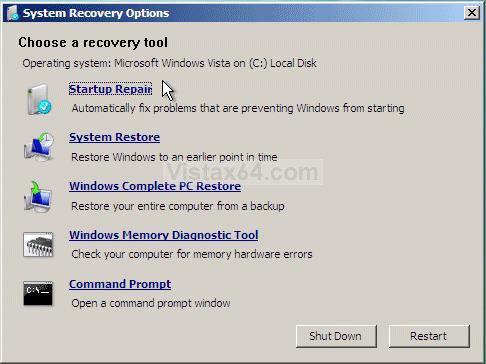 ​
​
C) Click on Restart now and check for problems and wait for your computer to restart. (See screenshot below)​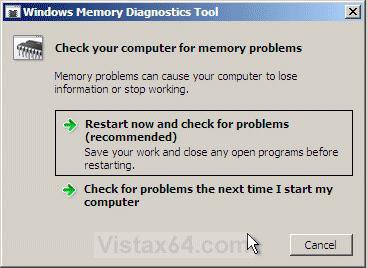 ​
​
4.
When the computer restarts you will see this. (See screenshot below step 6)​
​
5.
Press
ESC
to exit the Memory Diagnostics Tool.​
​
6.
Press
F1
to make any changes to the test options.​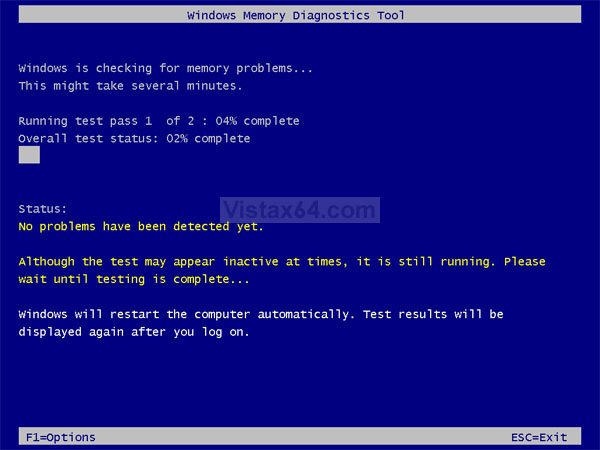 ​
​
7.
Press the
TAB
key to switch between option categories and the arrow keys to select the particular option. (See screenshot below)​
​
8.
Press
F10
to apply any changes in the options.​
​
9.
Press
ESC
to cancel any changes not applied and return to the screenshot under step 6.​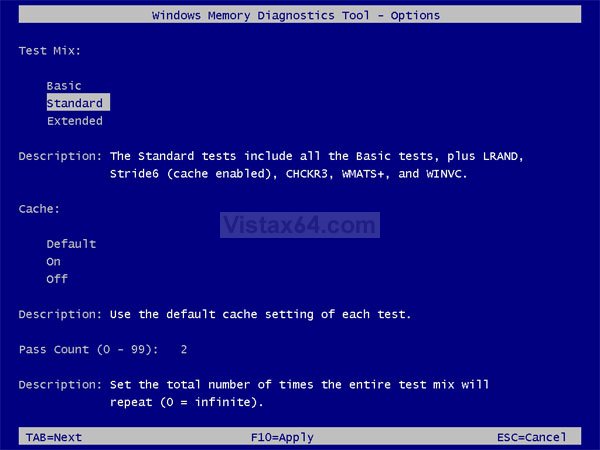 ​
​
10.
When the tests are complete, the tool will automatically reboot your computer, and the next time you log on to Vista the results of the test will be displayed as below only if problems were found now.​
NOTE:
If errors are found, the Windows Memory Diagnostics Tool will attempt to determine which particular memory module in your computer is causing these errors. If that information is available, it will be stated in the results. If bad memory is found then you will need to remove that memory and replace it.
​

​
​
​
That's it,
Shawn
Last edited by a moderator: