What bad, bad,habit?
Vista Guru


Microsoft Security Essentials - Is it really scanning to your scheduled settings?
I am concerned that Microsoft Security Essentials [MSE] is not performing as it should, because it doesn't appear to be activating and running a scan as scheduled under
Settings.
If I open MSE and choose to click on the
Scan Now
button to carry out a Manual Scan
on demand,
then three events are clearly visible in 'real time' -
There is activity on the progress bar of the window that opens, and files being scanned are clearly seen.
The MSE Icon in the Notification Tray shows rotational movement indicating that a scan is in progress. and,
At the end, a summarised report window opens. Example here -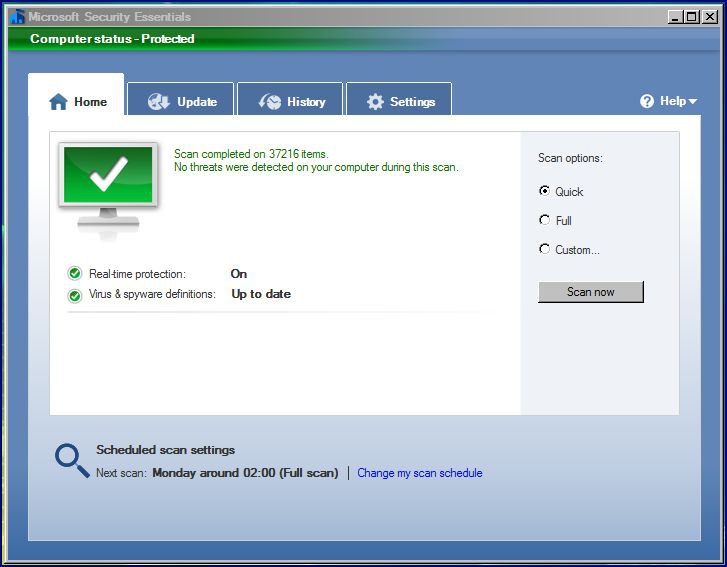 .......this shows how many items were scanned, and reports on the 'threats' status.
I have tried to verify my claim above, by carrying out a number of 'tests', primarily to try and determine if User scheduled scan settings, are actually initiating the automatic update and scan by MSE.
The scheduled 'test' scan times have come and gone, without any visual evidence to show that MSE has automatically activated and conducted the scan, as set by User settings. None of the following show any evidence of a scan either starting, being 'in progress', or ever being carried out;
The MSE Icon does not activate.
There is no post-scan report [as shown above from the manual scan]. and,
A check of Windows Update, shows that no further Updated Definitions for MSE, have been added to Update History.
I am beginning to suspect that because I use Firefox as my default browser, somehow this may disable or immobilise the automatic scheduled scan function of MSE. I also wonder how many other Users are experiencing the same difficulties.
To try and determine how widespread this apparent problem may be, please take part in the Poll above.
Last edited:
My Computer
Manufacturer/Model

Acer Aspire Notebook 5633WLMi.[5630 Series]

CPU

Intel Centrino Duo Processor - Intel Core 2 CPU.

Memory

4GB DDR2 [3.07GB maximum real available]

Graphics Card(s)

nVidia GeForce Go 7300, 128MB

Sound Card

Realtek HD Audio, Ver. 6.0.1.5717, 2.08MB

Monitor(s) Displays

Acer Aspire Notebook - 15.4"; Acer LCD Monitor X223Wsd - 22".

Screen Resolution

1280x800x60Hertz [max.]

Hard Drives

Notebook - Samsung HM320JI 320GB HD installed 07 August 2009.
External HDs [4];Maxtor One Touch4 - 500GB External HD [Drive M:\].Western Digital WDXMS1200TA - 120GB External HD [Drive G:\ - Windows Defender Backup Files only]. Two x LaCie 320GB Mobi

Mouse

Logitech Wireless V320 for Notebooks - Model M/N: M-RCD125

Internet Speed

Down 20000kb/sec / Up 1000kb/sec [Bigpond-Aus]

Other Info

Brother MFC-465CN; PC to Fax/Scan/Copy/Photo MFC. Epson Perfection V300 Photo Scanner. Siemens Speedstream 6520 Router. Wacom 'Bamboo Fun' CTE-650 PC Tablet, Stylus and Mouse. UAC - On;Activated. Browsers; [1] FireFox v3.6[2] IE8. Honorary R.S.M. to the 4th [Assault Pioneer] Troop Pune Sepoys , and 3rd Troop Jodhpur Bengali Lancers.