Hi
I've been having problems connecting wirelessly to the internet using my Fujitsu Amilo Li1818 laptop running Vista 64bit.
This started after i changed my ISP from BT to SKY. Now i can only connect using an ethernet cable, which is fine as the laptop is not too far from the router. For some reason i can't connect wirelessly. I have tried phoning SKY but they are saying it is not a problem with the router as my other devices (phone, ipad, android tablet) all connect properly.
I have carried out all the usual checks like re-setting the router and updating the network adapters from the Fujitsu site. In fact I had to roll back the 'updated' driver because it was giving me the blue screen of death!
As it happens Windows Vista downloaded an update for the Realtek RTL 8139/810x Family Fast Ethernet NIC adapter. So I know that isn't the problem.
Am i right in thinking the Realtek driver is only for ethernet connections and nothing to do with wireless connections?
Anyway, when i disconnect the ethernet cable and try and connect wirelessly it shows the following when i click on 'Connect to a Network': -
SKY router name, followed by PPPoE Connection. When i click on 'connect' it asks for a username and password. When i enter my ISP name and password it won't connect and asks me to try again.
It also does not show any other networks in the area. So is this PPPoE connection causing the problem? I don't ever remember seeing that type of connection before. When i click START and NETWORK it shows my router as ASDL. That also seems odd.
I had another look under DEVICES and Network Adapters and it shows the RTL detailed above. But when i look for the hidden adapters it brings up a whole load of different adapters.
I've attached a screen shot. What an earth are all those hidden adapters doing. They are also enabled. Is my laptop only looking at the wrong network adapter? Is there a way of forcing my laptop to choose Realtek?
I'm obviously guessing here!!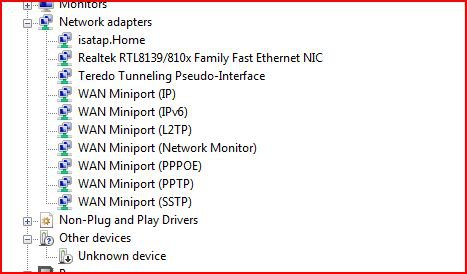 Any help much appreciated.
Until i get this resolved I'm not even going to consider buying a Windows 7 licence which is what i want to do.
Cheers!
NP13TH