The Contemplator
Vista Guru
Gold Member


I have been having severe problems lately with my Internet connection. My ISP is AOL and I am supposed to have a download speed of ~4Mb/sec. I would be quite happy to have a constant download speed of between 65%-80% of that figure, but take a look at this table. It shows the speeds that I have been getting. Notice that the Upload speeds vary (min 157, max 382). I am not so much bothered about that as I, like most home users, send far less information than I receive. However, take a look at the download speeds and how they vary (min 2, max 4254). I would be perfectly happy with a minimum of 2500, however what I am getting is totally unacceptable. The QoS also varies (min 3%, max 100%).
Incidentally, I have had my router since using Windows XP Pro (SP2), and have not made any changes to its configuration.
It would be interesting to have your views on this, and what you recommend my next steps to be. If I do decide to change my ISP (which, judging from this table, is highly probable), how do you go about it?
The following information was obtained via
Top 10 Broadband » UK Broadband Comparison - 150+ Deals & Offers. Broadband ISP, ADSL, Cable & Mobile Broadband
This shows my current line capabilities: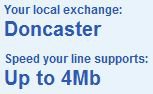 This would probably be my choice should I switch:
Last edited:
My Computer
Manufacturer/Model

Dwarf Dwf/11/2012 r09/2013

CPU

Intel Core-i5-3570K 4-core @ 3.4GHz (Ivy Bridge) (OC 4.2GHz)

Motherboard

ASRock Z77 Extreme4-M

Memory

4 x 4GB DDR3-1600 Corsair Vengeance CMZ8GX3M2A1600C9B (16GB)

Graphics Card(s)

MSI GeForce GTX770 Gaming OC 2GB

Sound Card

Realtek High Definition on board solution (ALC 898)

Monitor(s) Displays

ViewSonic VA1912w Widescreen

Screen Resolution

1440x900

Hard Drives

OCZ Agility 3 120GB SATA III x2 (RAID 0)
Samsung HD501LJ 500GB SATA II x2
Hitachi HDS721010CLA332 1TB SATA II
Iomega 1.5TB Ext USB 2.0
WD 2.0TB Ext USB 3.0

PSU

XFX Pro Series 850W Semi-Modular

Case

Gigabyte IF233

Cooling

1 x 120mm Front Inlet 1 x 120mm Rear Exhaust

Mouse

Microsoft Comfort Mouse 3000 for Business (USB)

Keyboard

Microsoft Comfort Curve Keyboard 3000 (USB)

Internet Speed

NetGear DG834Gv3 ADSL Modem/Router (Ethernet) ~4.0 Mb/s (O2)

Other Info

Optical Drive: HL-DT-ST BD-RE BH10LS30 SATA Bluray
Lexmark S305 Printer/Scanner/Copier (USB)
WEI Score: 8.1/8.1/8.5/8.5/8.25
Asus Eee PC 1011PX Netbook (Windows 7 x86 Starter)