How to Change Size of Icons in Quick Launch in Vista​

Information

This will help you have the icons display the way you want in Quick Launch by showing you how to change the size of the Quick Launch area, and shortcut icons to be either Large or Small icons.

EXAMPLE:

Before (Small Icons), After (Large Icons), and After (Double Height)

​

Here's How:

1.

Right click on a empty area of the taskbar.

​

​

2.

Click

Lock the Taskbar

to uncheck it. (See screenshot below)​
​
​
3.

To Resize the Quick Launch Icons
​
A) Right click on a empty area of the Quick Launch area between the dotted bars and the icons. (See screenshot below)​
​
B) Click on View and click on either Small Icons or Large Icons to check the icon size you want.​
​
​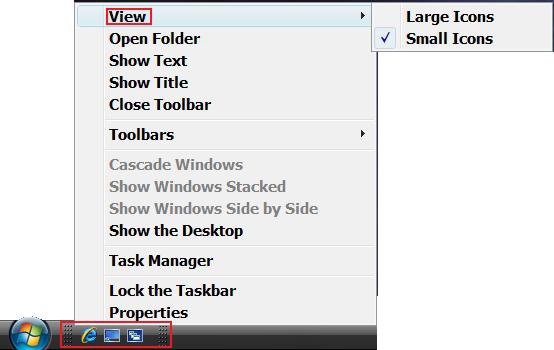 ​
​
4.
To Resize the Taskbar and Quick Launch Area
​
NOTE:
To be able to see all of your icons
.​
A) Move the pointer over the lines until they turn into a double arrow, then left click and hold and drag it to the size you want it. (See screenshots below)​
​
​
​
5.
Click
Lock the Taskbar
to check it back. (See screenshot below step 2)​
​
That's it,
Shawn
Last edited by a moderator: