How to Troubleshoot the Computer with Reliability Monitor in Vista​

Information
Reliability Monitor shows you your system stability history at a glance and lets you see details on a day-by-day basis about events that impact reliability. This will show you how to open and use Reliability Monitor.
For more detailed information about Reliability Monitor, see also:
Microsoft Technet: Use Reliability Monitor

Note
Reliability Monitor reports on system stability. Reliability Monitor displays detailed information about application installations, application removals, operating system and application failures, hardware errors, and system clock changes.


Reliability Monitor collects 24 hours of data before it calculates the System Stability Index (scales from 0 to 10, 10 is the best score) or generates the System Stability Report.

Tip
This can be handy if you had a failure of a software (un)install, application, hardware, windows, or some other miscellaneous item and you need details on what, when, and why it failed to be able to fix it. Reliability Monitor will help you narrow down when and what caused the problem.
Here's How:
1.
Open the Start Menu.
2.
In the white line (Start Search) area, type
perfmon
and press
Enter
.
NOTE:
You can also open Performance Monitor in Computer Management in Administrative Tools.
3.
If prompted by UAC, then click on
Continue
.
4.
Click on
Reliability Monitor
in the left pane. (See screenshot below)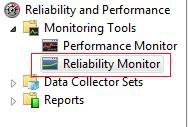 ​
5.
Select the item in the chart below for more details on it. (See screen shot below)
NOTE:
Look at the chart below to see when and what you had failed. This can be helpful if you don't know what caused the failure but know when, or vice versa.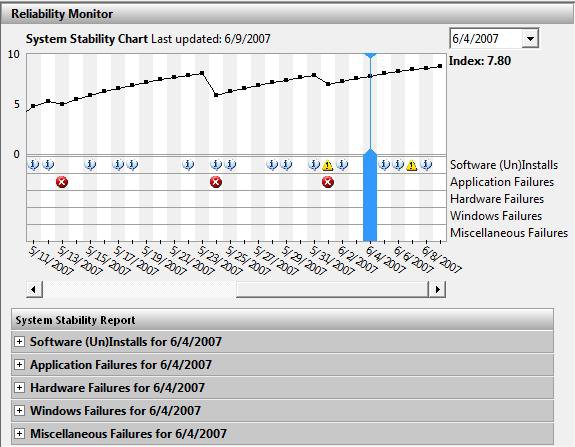 ​
6.
You can also click on the black graph line (At top of chart above) on the dot for each day to see details on failures. (See screenshot below on details)
NOTE:
Notice the information it will give you. It can give you even more details on why it failed for some items.
EX:
For 5/24/07
(On 1st screenshot above)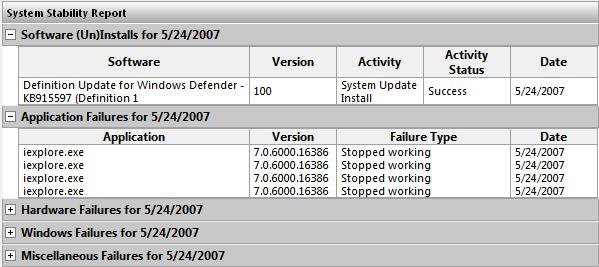 ​
That's it,
Shawn
Last edited: