HELLO FELLOW (sony) LAPTOP OC-ers. trying to overclock? first u need a pll and ur like WTF is a pll... you go on google and r like wot iz dish ****. you look in your laptop and u CANT FRIGGIN FIND IT... GUESS WOT... I FOUND IT. this tutorial is for u...
RECOMMENDED FOR SONY LAPTOPS
first... sony dont like their laptops being oc-ed so they hid settings in bios and put ur pll somewhere u will least expect it. IM running a sony vaio vgn cr14gn and if you want to oc ur sony READ THIS
1. place the laptop UPSIDE DOWN and the battery must face you... ur not touching any components so dont worry bout the battey ****... NOTE that you MAY take out the MEMORY to see more.
2. OPEN THE CASE which holds the memory as seen in figure 1. HERE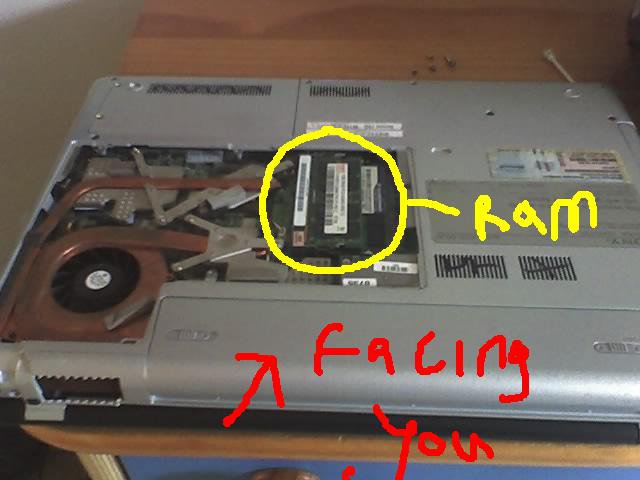 3. LOOK FOR THE RAM slots and look for the gap figure 2.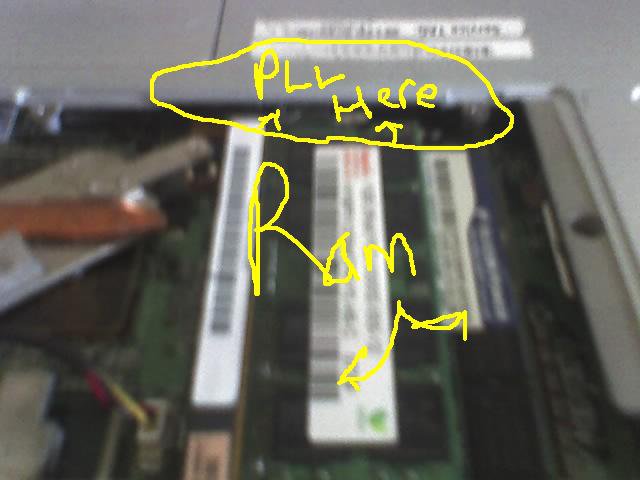 as you can see the pll is in that gap...
THATS ABOUT IT write it down... i got mine from 1.80 to 2.10 and runs as smooth as a babys bottom

ANY QUESTIONS JUST ASK
My Computer
Manufacturer/Model

Custom Gaming Rig 780G

CPU

AMG Athlon II X2 255 3.8/2MB/2500MHz 45nm AM3

Motherboard

Gigabyte GA-MA78LMT-S2 AM3, Core Boost, Ultra Durable 3

Memory

2X 4GB Kingston DDR3 1066MHz @ 1666MHz Dual Channel

Graphics Card(s)

HIS HD Radeon 7770 GHz Edition iCooler Core: 1000MHz

Sound Card

Realtek HD Audio

Monitor(s) Displays

Dell E2311H DVI/VGA 5ms response, Full HD

Screen Resolution

1920x1080 @ 60Hz

Hard Drives

320GB Seagate Barracuda 7200.02 SATA II

PSU

Cooler Master Extreme Power Plus 700w

Case

Lian-Li PC-6010 With Side Window

Cooling

Aywun A4 80mm fan

Mouse

Logitech K120 Wired Mouse

Keyboard

Logitech K120 Wired Keyboard

Internet Speed

802.11B/G/N 17Mb/s

Other Info

AMD Catalyst 12.6
Thomson A/B/G/N Router
LiteON CD/DVD Player
GAME PERFORMANCE:
Battlefield 3: 41 FPS High 1x AA @ 1280x720
Mass Effect 2 and 3: 60 FPS Highest 4x AA @ 1920x1080
Counter Strike Source (and other Valve games):
300 FPS (max FPS in game) Highest settings 8x AA 16x AF @ 1920x1080!!!