How to Do a System Restore in Vista
​

Information
This will show you how to do a System Restore to help you restore your computer's system files, programs, and registry settings to an earlier point in time. It will not affect your personal files, such as e‑mail, documents, or photos, so it cannot help you restore a deleted file.

Tip
Be sure to use a restore point dated before the problem started or it will not help you.
If this System Restore did not help or made things worse and you need or want to undo it, then see: How to Undo the Last System Restore in Vista

Note
System Restore uses this Service with this setting:
Volume Shadow Copy
This
service
is set to
Manual
by default.

Warning
METHOD ONE
Through System Protection

Note
If you have not done a system restore before, you will not have the two options below in the first screen of the video below. Just click Next to see your restore point choices.
If the System Restore was unsuccessfully completed, then you can try to do a System Restore in Safe Mode or use

Method Two

below instead.
1.
Open the Start Menu.
2.
Click
All Programs
-
Accessories
-
System Tools
-
System Restore
.
A) Go to step 3.
​
OR
2.
In the white line (Start Search) area, type
rstrui
and press
Enter
.
NOTE:
rsrui is the EXE file for System Restore. C:\Windows\System32\rstrui.exe
A) Click Continue for UAC prompt.
​
3.
Click on the
Click to Play
button in the video below.
NOTE:
After you click Choose a different restore point, make sure you check Show Restore points older than 5 days, if this is displayed, to see your older restore points
.
[media]http://www.vistax64.com/download/flash/system_restore.swf[/media]
​
METHOD TWO
Using System Recovery Options at Boot
1.
Boot from either your retail Vista installation disc or created
Vista repair disc
into the
System Recovery Options
screen.
2.
Click on the
System Restore
option. (See screenshot below)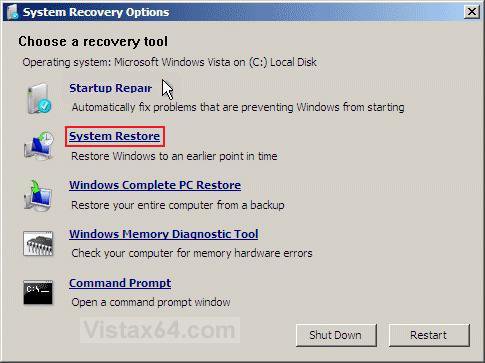 ​
3.
Follow the rest of the instructions in the video at step 3 on in
METHOD ONE
above for how to do the rest.
​
That's it,
Shawn
Last edited: