ByLine

How to Disconnect a Network User Connection in Vista
Synopsis

This will show you how to select and disconnect a user connected to your computer through a network
How to Disconnect a Network User Connection in Vista
​

Information
This will show you how to select and disconnect a user connected to your computer through a network.

Note

Warning
You must be an administrator, or apply the administrator password to do this.
Here's How:
NOTE:
Press CTRL+SHIFT+ESC, or right click on the Taskbar and click on Task Manager
.​
​
2.
Click on the
Process
tab. (See screenshot below step 4)​
​
3.
Click on
Show processes from all users
.​
NOTE:
This elevates the Task Manager. If you do not this, then you will receive this error when you try to disconnect the user
:
User username (SessionId=2) could not be disconnected. Access is denied
.​
​
4.
Click on
Continue
in the UAC prompt.​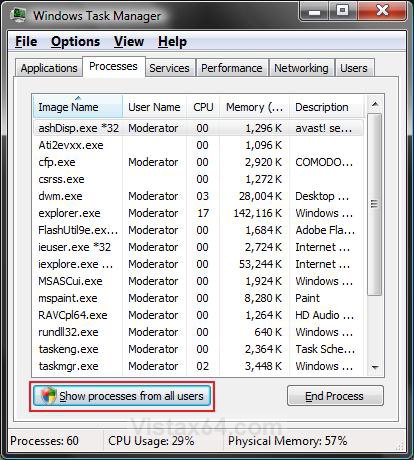 ​
​
5.
Click on the
Users
tab. (See screenshot below step 7)​
NOTE:
The Users tab is unavailable on computers that are members of a network domain
.​
​
6.
Click on a user that you want to disconnect their network connection to your computer.​
NOTE:
A connected network user will have their Computer Name under the Client Name column
.​
​
7.
Click on the
Disconnect
button.​
NOTE:
This button will be grayed out if the listed user is not connected by a network and is only connected locally (EX: Switch User) instead
.
See
:
How to Log Off a Local User in Vista
​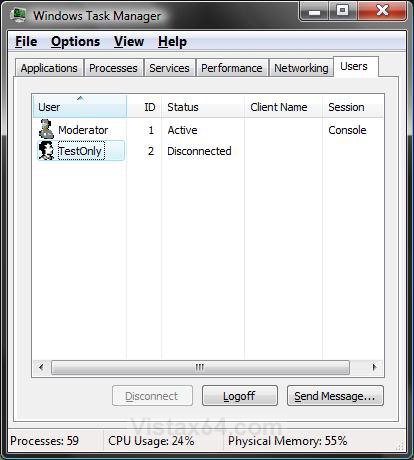 ​
​
8.
Click on
Disconnect user
to confirm. (See screenshot below)​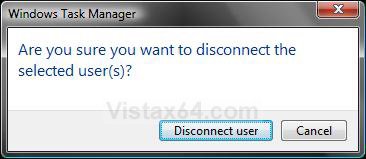 ​
​
9.
Task Manager will now no longer have the user listed since they have been disconnected.​
​
That's it,
Shawn
Last edited by a moderator: