How to Change the Desktop Theme in Vista
​

Information
A Desktop Theme is a collection of visual elements and sounds for your computer desktop. These elements consists of the appearance of menus, icons, wallpapers, screen savers, fonts, some computer sounds, mouse pointers, and etc. This will show you how to change, save, or delete a theme.

Note
Vista only includes these two desktop
themes:
Windows Vista
and
Windows Classic
. However, you can save any desktop theme you setup as a custom theme to save. Each user account can create and save their own custom desktop theme. See step 4 below for how to save a theme. See the related links for how to change each element in a desktop theme.

Tip
FILE EXTENSION:
.theme
FOLDER LOCATION:

C:\Windows\Resources\Themes

Warning
There does not seem to many if any Vista themes currently available to download that you can use without having to hack system files to be able to use them. If you know of a website that does have free themes that you can use without hacking, then please post a link to it below.
Here's How:
1.
Right click on a empty area of your desktop and click on
Personalize
. (See screenshot below)​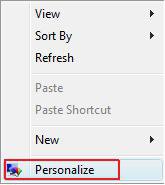 ​
​
2.
Click on
Theme
. (See screenshot below)​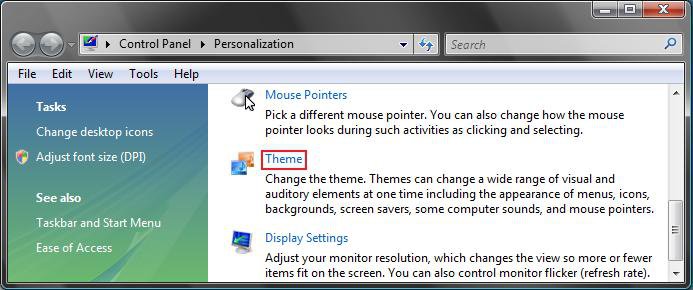 ​
​
3.
Here are the Theme Settings :​
​
4.

To Save the Current Theme
​
NOTE:
This is helpful if you want to save all of the changes you made to the desktop theme so you can add it back later if needed.
​
A) Click on the Save as button. (See screenshots above)​
​
B) Select where you want to save the theme by clicking on Browse Folders. (See screenshot below)​
​
C) Type in a name for the theme and click on the Save button.​
​
D) Click on Apply and OK.​
​
​

​
​
NOTE:
This would be a .theme file that you downloaded off the internet or one that you saved from step 3 above.
​
A) Click on the
Theme:
drop down menu and select a theme or click
Browse
to get
one from another location. (See screenshot from step 3 above)
​
​
B) Navigate to the location of the .theme file and click on the Open button. (See screenshot below)​
​
C) Click on Apply and OK.​
​
​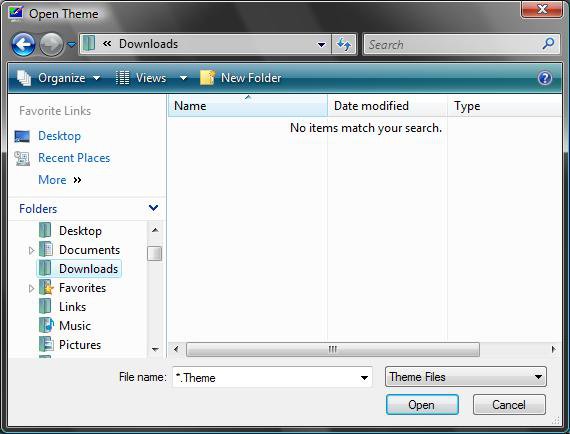 ​
​
NOTE:
You cannot delete the default Windows Vista and Windows Classic themes, only the ones you added or saved.
​
A) Select a theme under the Theme: drop down menu. (See screenshots from step 3 above)​
​
B) Click on the Delete button.​
​
C) Click on Apply and OK.​
​
That's it,
Shawn
Last edited: