ByLine

How to Enter UAC Credentials on Secure Authentic Vista Logon Screen
Synopsis

This will show you how to increase UAC Credentials privacy and security. This will only work if you have access to Gpedit.msc (Group Policy)
How to Enter UAC Credentials on Secure Authentic Vista Logon Screen
​

Information
This will show you how to increase UAC Credentials privacy and security.

Warning
This will only work if you have access to Gpedit.msc (Group Policy). The Vista Home Basic and Home Premium editions do not have this feature.

Note
EXAMPLE:
When you follow this tutorial, UAC will ask for credentials like this. . .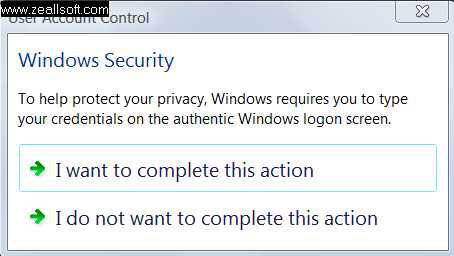 ​
​
Here's How:
Step Two:​
Second, Click Computer Configuration, Administration Templates, Windows Components, Credential User interface. If you cannot see these tabs, scroll down to Steps Two & Three Screenshot.​
Third, Set
Require trusted path for credential entry
to
enabled
.​
​
Steps Two & Three Screenshot
​
​

​
​
Close the Group Policy Editor, you will now have to enter your credentials on a logon screen for added security!​
​
​

End Of Tutorial!

Last edited by a moderator: