Resistance is Futile
Vista Guru
Gold Member

I have just recently helped a friend upgrade his computer to be Windows Vista capable.
One of the upgrades was a nVidia 9600GT graphics card.
Except now the problem is this, even with the newest nVidia drivers installed, the WEI will not score more than 1.0 for Graphics.
The odd thing is it shows the correct driver is installed, but the test is being run using "Standard VGA Graphics Adapter", as show below: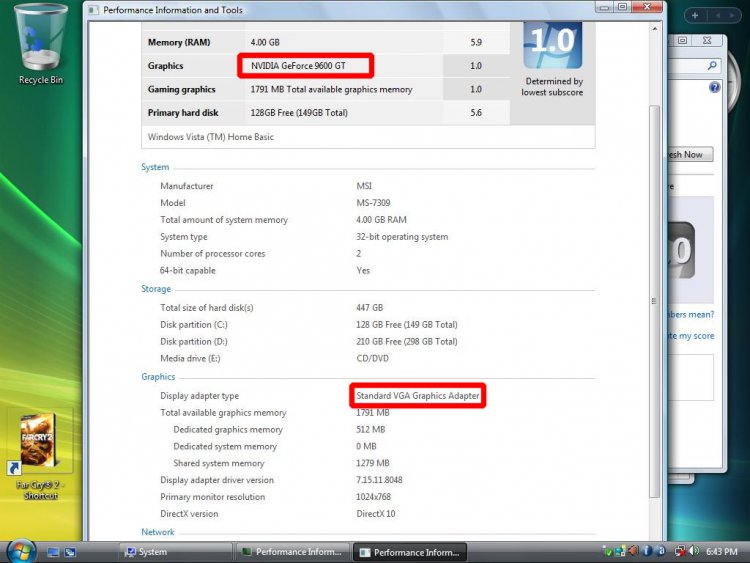 ​
This happens even after a total clean re-install of Windows Vista Home Basic.
Any ideas how to fix this?
My Computer
Name

Peter Alexander Dzomlija

Manufacturer/Model

Custom Build

CPU

AMD Phenom 9600 Quad

Motherboard

ASUS MB-M3A32-MVP Deluxe/WiFi

Memory

2 x A-Data 2GB DDR2-800

Graphics Card(s)

ASUS ATI Radeon HD 2400PRO

Monitor(s) Displays

SAHARA 21"

Screen Resolution

1600x1200

Hard Drives

2 x 80GB Seagate (I)
2 x 120GB Seagate (I/S)
2 x 200GB Seagate (I/S)
2 x 250GB Seagate (I/S)

PSU

800W

Case

Thermaltake Tai-Chi

Cooling

Tai-Chi Water Cooler

Mouse

Logitech

Keyboard

Genius

Internet Speed

384kbps

Occupation

General IT Support, PC Construction

Other Info

Currently dual booting between Vista x64 Ultimate Windows 7 BETA x64

Country Flag

south africa