What bad, bad,habit?
Vista Guru


This is the Context Menu that I'm referring to, accessed by
Start>Pictures>
[Open a Folder to display thumbnails],
Right-click on Thumbnail.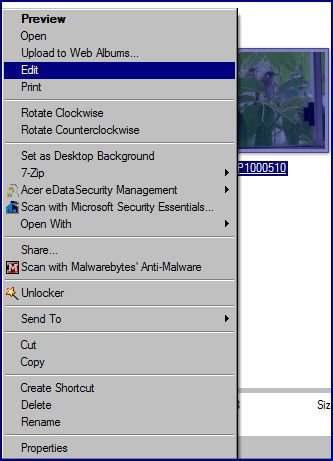 With my current settings [where?], if I select and click on
Edit
, MS Windows Paint opens as the Default Editing Program.
I don't like Paint at all, and want to
change
from that current Default Program, to allow my Pictures to be
opened and edited by Picasa
. Is there a method by which I can change that Context Menu, so that by clicking on
Edit,
the selected thumbnail automatically opens in Picasa?
And before anyone leaps in and suggests any other editing program from the plethora of others available [eg. Photoshop etc.], please don't waste your time - I'm not interested in them, as
Picasa
fulfills all of my basic photo editing requirements.
Basically, I'm looking for a shortcut to open Picasa with just one click, as I'm aware that I can also get there through
Open with
, in the same Context Menu.
My Computer
Manufacturer/Model

Acer Aspire Notebook 5633WLMi.[5630 Series]

CPU

Intel Centrino Duo Processor - Intel Core 2 CPU.

Memory

4GB DDR2 [3.07GB maximum real available]

Graphics Card(s)

nVidia GeForce Go 7300, 128MB

Sound Card

Realtek HD Audio, Ver. 6.0.1.5717, 2.08MB

Monitor(s) Displays

Acer Aspire Notebook - 15.4"; Acer LCD Monitor X223Wsd - 22".

Screen Resolution

1280x800x60Hertz [max.]

Hard Drives

Notebook - Samsung HM320JI 320GB HD installed 07 August 2009.
External HDs [4];Maxtor One Touch4 - 500GB External HD [Drive M:\].Western Digital WDXMS1200TA - 120GB External HD [Drive G:\ - Windows Defender Backup Files only]. Two x LaCie 320GB Mobi

Mouse

Logitech Wireless V320 for Notebooks - Model M/N: M-RCD125

Internet Speed

Down 20000kb/sec / Up 1000kb/sec [Bigpond-Aus]

Other Info

Brother MFC-465CN; PC to Fax/Scan/Copy/Photo MFC. Epson Perfection V300 Photo Scanner. Siemens Speedstream 6520 Router. Wacom 'Bamboo Fun' CTE-650 PC Tablet, Stylus and Mouse. UAC - On;Activated. Browsers; [1] FireFox v3.6[2] IE8. Honorary R.S.M. to the 4th [Assault Pioneer] Troop Pune Sepoys , and 3rd Troop Jodhpur Bengali Lancers.