How to Make a "Create System Restore Point" Shortcut in XP, Vista, Windows 7, and Windows 8
​

Information
This tutorial will provide you with a create a manual system restore point shortcut that will instantly create a restore point with an optional description and success message in XP, Vista, Windows 7, and Windows 8.



Note
Restore points contain information about registry settings and other system information that
Windows
uses. System Restore points do not include personal user files in the C:\Users\(user-name) folders.
This will work for 32 bit and 64 bit Vista. You must have System Restore and the services responsible enabled for this shortcut to work. If not you will get the error message below when you try to use the shortcut below. See:
How to Disable or Enable System Restore in Vista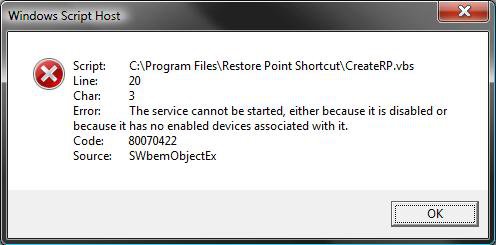 Warning

EXAMPLE:

Create System Restore Point with description shortcut


NOTE:

When you click on the Create System Restore Point shortcut, you will see this window. Just type in a name for the restore point, and click on OK to create the restore point

.

​

Here's How:

1.

For how see updated tutorial here:

System Restore Point Shortcut - Windows 7 Forums

That's it,

Shawn
Last edited by a moderator: