How to Change the Visual Effects Options for Appearance and Performance in Vista
​

Information
The Visual Effects include most of the special effects in Vista. Select the settings you want to use for the appearance and performance of Vista. You can choose which visual effects to turn off, one by one, or you can let Windows choose a bunch for you. There are 20 visual effects you can control, such as the transparent glass look, the way menus open or close, and whether shadows are displayed.

Tip
If Vista is running slowly, you can speed it up by disabling some of its visual effects. It comes down to appearance versus performance. Would you rather have Vista run faster or look prettier? If your PC is fast enough, you don't have to make this tradeoff, but if your computer is just barely powerful enough for Windows Vista, it can be useful to scale back on the visual bells and whistles to gain some performance.

Warning
MINIMUM SYSTEM REQUIREMENTS FOR VISTA :
Vista Home Basic
Processor: 1GHz (32 or 64 bit)
System Memory (RAM): 512MB
Hard Drive: 20GB with 15GB available for Vista
Video Card: 32MB Memory and DirectX 9 Support
DVD-ROM Drive
Vista Home Premium, Business, or Ultimate
Processor: 1GHz (32 or 64 bit)
System Memory (RAM): 1GB
Hard Drive: 40GB with 15GB available for Vista
Video Card: 128MB Memory, DirectX 9 Support with: WDDM Driver, Pixel Shader 2.0, 32bits per pixel
DVD-ROM Drive
Here's How:

Warning
If you make any changes in the
Ease of Access Center
in the Control Panel (Classic View), then the visual effects settings will automatically be reset to the default settings. You will then need to make any changes that you have made to the visual effects settings below again.

1.
Open Control Panel. (Classic View)​
​
2.
Click on the
System
icon.​
A) Go to step 5.​
​
​
​
4.
Right click on
Computer
and click on
Properties
.​
​
5.
Click on the
Advanced system settings
link. (See screenshot below)​

​
​
6.
Click on
Continue
in the UAC prompt.​
​
7.
Under Performance, click on the
Settings
button. (See screenshot below)​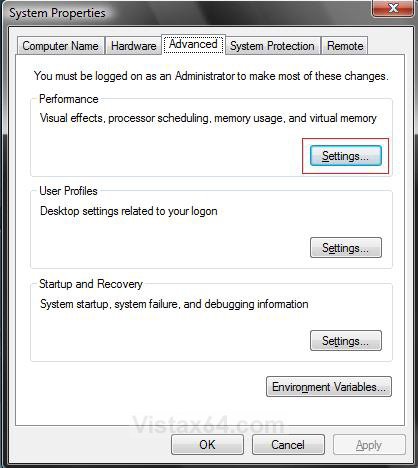 ​
​
8.
Under
Visual Effects
, dot
Custom:
and check the ones you want, and uncheck the ones you do not want. (See screenshots below)​
​
​
NOTE:
If you dot Adjust for best perfomance, then you may have to turn ClearType font smoothing on again.

Tip
If you want to help improve performance, then these are the most common ones to uncheck:

Tip
Animate windows when minimizing and maximizing
Fade or slide menus into view
Fade or slide tooltips into view
Fade out menu items after clicking
Show shadows under menus
Slide open combo boxes
Slide taskbar buttons
Use a background image for each folder type
​
Top and Bottom half of list:​
​
9.
Click on
Apply
and on
OK
to apply changes.​
​
10.
Click on
OK
to close window from below step
7
.​
​
11.
Close window from below step
5
.​
​
That's it,
Shawn
Last edited: