Upon shutting down my laptop (Toshiba Satellite L305D-S5895) via the Start Menu --àShutdown method, and when starting laptop back up about 5 hours later, laptop automatically went into "Windows Error Recovery" mode, as shown below: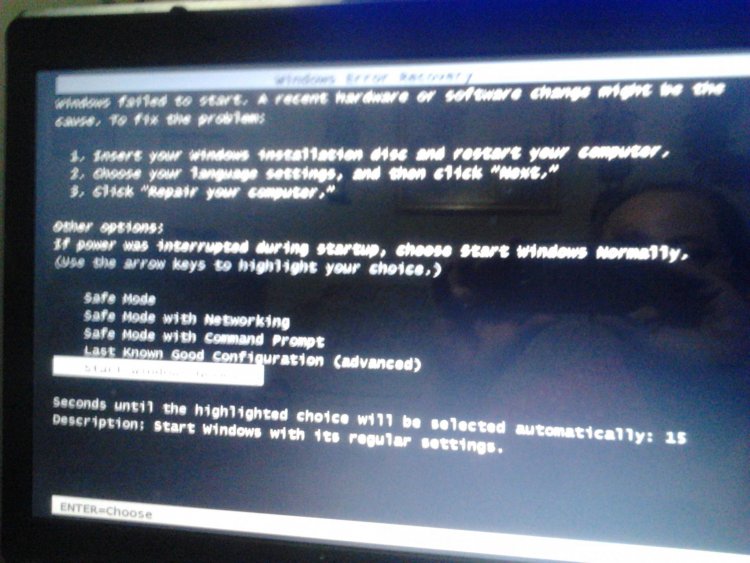 So, I highlighted and started Windows in Normal mode, and then laptop went to "Windows Boot Manager", which I got the following error: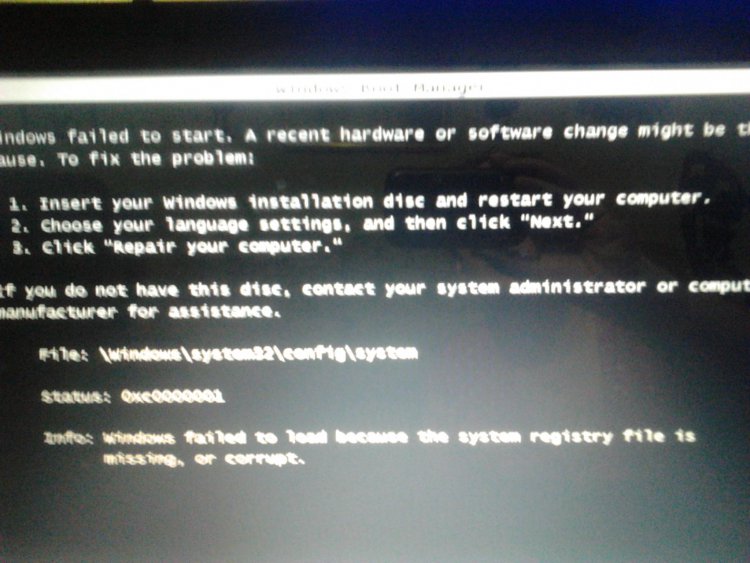 So, I manually pressed the power button to shutdown and restart my computer, only to get the same two modes a couple of times each, so I shutdown my laptop using the power button, which was the only way I had to shut it down during these mode windows, as far as I could tell.
A couple of hrs later, I powered up my laptop and got the following error:
Intel UNDI, PXE-2.1 (build 082)
Copyright © 1997-2000 Intel Corporation
For Realtek RTL8101E/8102E PCI-E Ethernet Controller v1.05 (071227)
PXE-E61: Media test failure, check cable
PXE-M0F: Exiting PXE ROM.
No bootable device -- insert boot disk and press any key
When restarting laptop and hitting F2 (InsydeH20 Setup Utility), the "MAIN" reads:
CPU Type: AMD Turion™ 64 X2 Mobile Technology TL-60
CPU Speed: 2.00 GHz
Hard Disk Drive: None
Optical Disk Drive: TSSTcorp CDDVDW TS-L632P(PM)
Total Memory: 3072 MB
System BIOS Version: 1.50
All other Categories (Advanced, Display, Security, Boot) are loaded into "Setup Defaults" mode.
Then, not knowing what else to do, I bought a Windows Vista 64-bit Repair CD through Ebay, to see what and if that would help, since I did not get a Windows Vista CD and did not make any startup/recovery discs of my own. After "Windows is loading files…." (White bar shows files loading) and after files load, I am able to see the Windows Vista Install window, and when I enter Language, Time & Currency and Keyboard data and click NEXT, I am then able to enter into "Repair your computer". When I click on "Repair your computer", the "System Recovery Options" does not show an "Operating System" listed, and when I click on "Load Drivers", then it reads "Insert the installation media for the device and click OK to select the driver", which I am not familiar on how to "Add Drivers" if needed or how to see Drivers on my computer, but if I click on "OK" then it goes to "sources" file and lists various Folders and "Setup information" icons. If I click "CANCEL" on the "Add Drivers" window, I am able to go into "System Recovery Options", but I am not sure what to do to be able to get my laptop to functioning correctly. I am almost 100% sure that I have Windows Vista Home Premium on my laptop. Can someone please help me get my laptop back to running correctly??
Thanks, Cherie M.
My Computer
Manufacturer/Model

Toshiba Satellite/Model PFLC0U-01S01F

CPU

AMD Turion 64 X2 TL-60/Vista Home Premium

Motherboard

L305D-S5895

Memory

3072 MB