Thanks for the information. I have the ISO for x64 Home Premium.
From what I can see, Windows Live was an assembly of various services See
Windows Live - Wikipedia
. For some reason, I think I had to install, at some point, Windows Essenstials, which is also mentioned in that reference. Attached is a list of services which I are installed on
on my system. Note that these were part of the ISO from S1W2. I didn't need to install Essentials, as I had before using the ISO.
my system.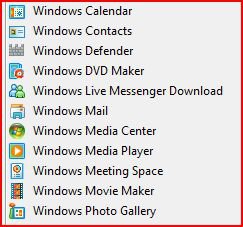 My Computer
Operating System

Vista Home Premium 64 bit SP2

Manufacturer/Model

Cyberpower

CPU

Intel Quad CPU Q6700 2.67 GHZ

Motherboard

NVIDIA 780i

Memory

4 GB

Graphics Card(s)

MSI GTX 560 TI Twin Frozr

Sound Card

Sound Blaster SB Audigy

Monitor(s) Displays

Viewsonic VG2436

Screen Resolution

1920x1080p

Hard Drives

Samsung HD 105SI
WDC WD20

Case

Apevia XJupiter

Cooling

air

Keyboard

Logitech MX 3200

Mouse

Logitech MX 600

Internet Speed

30 Mbps