How to Change the Target Path Location of a Shortcut in Vista
​

Information
This will show you how to change the Target path location of a shortcut file or folder. The Target is the full path of the original file or folder, usually an EXE file, the shortcut opens.

Note
When the original file that the shortcut was created for is moved, this can cause the shortcut to lose it's association and no longer open the original file. The shortcut no longer has the correct full path to the original file. You can correct this by changing the target for the shortcut to the new location of the original file.

Tip
If this fails or you are unable to change the Target, then you can create a new shortcut by right clicking on the original file amd click Create Shortcut. You may need to allow it to place the shortcut on your desktop instead. If this happens, just Move it to where you like after it is created.
Here's How:
1.
Right click on the shortcut and click on
Properties
.​
​
2.
Click on the
Shortcut
tab. (See screenshot below)​
​
3.
In the
Target
field, type the full path of the original file for this shortcut.​
​
4.
Click on
OK
to apply.​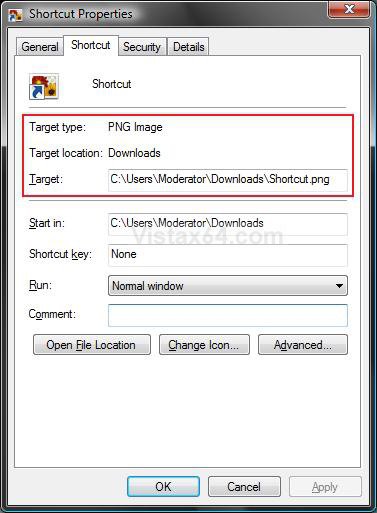 ​
​
That's it,
Shawn
Last edited by a moderator: