How to Uninstall or Change a Program in Vista
​

Information
This will show you how to use Programs and Features to uninstall programs or to change the program's configuration by adding or removing certain options. This was called Add and Remove Programs in XP.

Note
If the program that you want to uninstall is not listed, then it may not have been written for this version of Windows. To uninstall the program, check the information that came with the program and see if it has a uninstall EXE program for it in it's C:\Program Files or C:\Program Files (x86) folder.
Here's How:
​
2.
Click on the Control Panel button.​
​
3.
In
Classic view
, click on the
Programs and Features
icon. (See screenshot below)​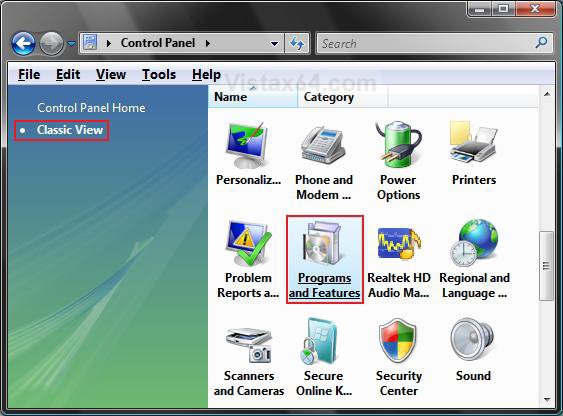 ​
​
4.
Highlight a listed program to see the available option on the toolbar for it. (See screenshot below)​
NOTE:
The options will be either Uninstall, Change, Repair, or a combination of these. A program may not have all the options available for it.
​
​
​
​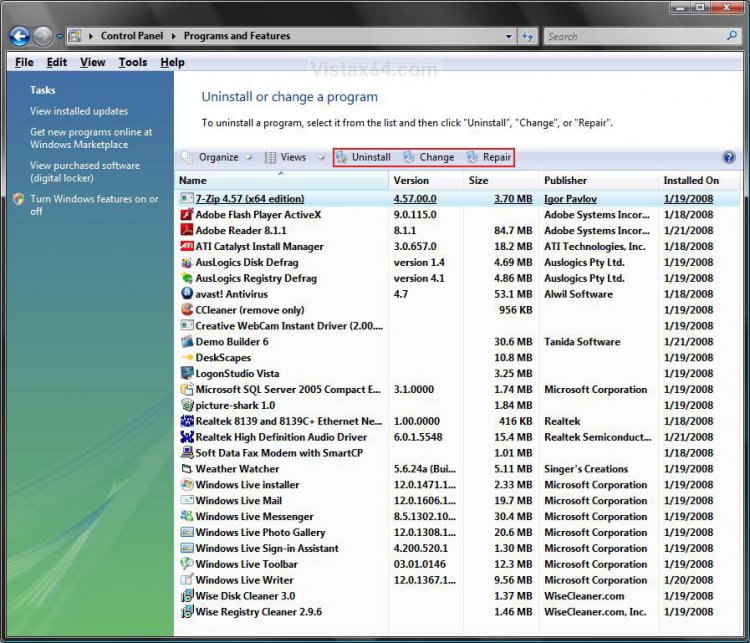 ​
​
5.
Click the option you want to do on the toolbar, or right click on the listed program to select the option. (See screenshot above)​
NOTE:
See an explanation of each option, if available for the program, in steps 6 to 8 below
.​
​
6.

To Uninstall a Program
​
A) Click on Uninstall or Uninstall/Change.​
​
B) Click on Yes. (See sceenshot below)​
​
​

​
​
NOTE:
The Change option is used for software that can be installed in modules and/or have different setups, such as a productivity suite where you can install applications independently. Should you decide to add or remove components at a later time, the Change install comes in handy
.​
A) Click on Change.​
​
B) Make any changes in the installation setup program.​
​
NOTE:
Repair is usually used when you want corrupted files and settings replaced with original ones from the selected program's installation program. Sometimes the entire program is just reinstalled with all files overwritten and settings returned to default for the selected program
.​
A) Click on Repair.​
​
9.
If prompted, click on
Continue
in the UAC prompt.​
​
10.
Close Programs and Features when done.​
NOTE:
Some programs will require a restart afterwards
.​
​
That's it,
Shawn
Last edited: