How to Restore the Built-in ZIP File Support in Vista​

Information
This will show you how to restore the built-in ZIP file support in Vista by restoring the ZIP file association.

Note
You may have used a program like WinZip, WinRar, or some other Zip program and Vista will now not go back to it's default Zip handler in explorer after you uninstalled the other program.

Tip
If when you try to open a ZIP folder and it does not open in a Windows Explorer window, then turn on Compressed Folders. See related link below for how.

Warning
This must be done while logged on to a administrator account.
Here's How:
​
1.
Click on the download button below and save the
zipfix_vista.reg
file to your desktop.​
​

​
2.
Right click on the downloaded
zipfix_vista.reg
file and click on
Merge
.​
​
3.
Click on the
Run
button in the Security Warning pop-up. (See screenshot below)​
​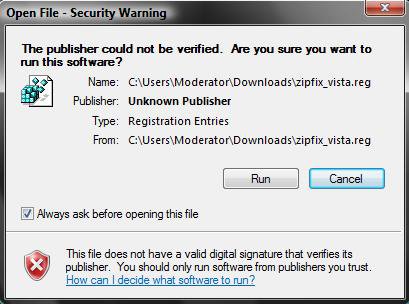 ​
4.
Click on
Continue
(UAC),
Yes
, and then
OK
when prompted.​
​
5.
When done, you can delete the downloaded
zipfix_vista.reg
file if you like.​
​
6.
Restart
the computer to apply changes.​
​
​
That's it,
Shawn
Last edited: